The Idaburn dam is famous for curling, but when the curlers aren't making use of the large but shallow expanse of ice, the dam is often used by skaters.
Likelyhood of ice
The Idaburn dam is often frozen over. The ice quality is usually not as good as that found at the Manorburn dam. Hoar frosts on the overhanging power lines often leave a trail of ice crystals in straight lines along the ice.
Access
The Idaburn dam is found by driving a few kilometers west via the main road through Oterehua in Maniototo. The reservoir is situated directly beside the road. The bulk of the reservoir is very shallow, but towards the dam itself the depth increases quickly.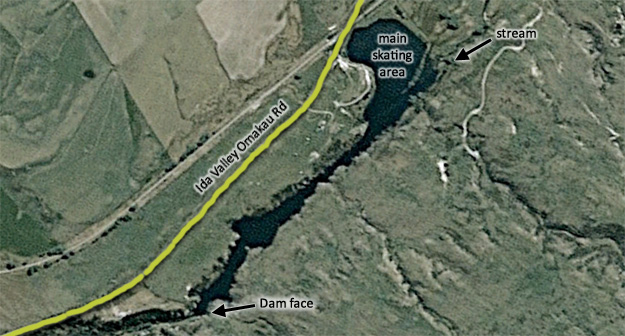 Gallery


The Idaburn dam is best known for it's famous curling bonspiels. July 2010. Photo courtesy of David Patchett.
Map
[googlemaps http://maps.google.com/maps/ms?ie=UTF8&hl=en&t=h&source=embed&msa=0&msid=109221055428661953608.00046e2eb643a8d081131&ll=-45.314917,169.743662&spn=0.055347,0.085316&iwloc=00046e2f3f0bb875e99b5&output=embed&w=625&h=400]
If you have any information, photos or stories relating to the Idaburn dam which you think would be suitable for this page, please send it to us, or apply to be an official contributor to the site.